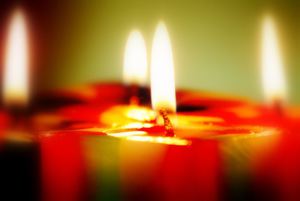 Candles have been used since time immemorial for a variety of reasons from the practical, religious and ceremonial, to the decorative and romantic. In working with your aura and the Divine Light, candles play a powerful supportive role. Candles have their own particular force field that is unequaled in conducting and redirecting energy that has gone astray. They have an esoteric meaning that can be used for personal and spiritual purposes.
Candles represent different spiritual energies depending on the colored candle you use. Lighting candles during meditation is a wonderful way to support the meditative process. For example if you are primarily mediating with the deep rose-pink ray of spiritual love, lighting a pink candle is a powerful way to support your light work. Or if you are working with the prosperity ray, lighting a turquoise candle supports your effort to build your consciousness of abundance. It's a good idea to have a collection of various colored candles as part of your meditation practice. A white candle can always be used if you cannot find the colored candle you need.
In addition to lighting candles during meditation, you can work with them on their own. For example, if you feel enveloped by a strong fear of anything or feel anxious for no apparent reason, burning candles can help.
First, reflect on what is causing your anxiety. Meditate with the Divine Light to cut loose the fear and uplift the consciousness. Then add working with candles outside your meditation. For fear and anxiety, burn powder blue, gold (there are gold-foiled taper candles you can buy) and bright orange candles together to help disperse these emotions. When you first begin, burn the candles for two hours. After the initial burning, relight the candles for ten minutes intermittently throughout the day or until you feel a lifting. If there is still difficulty, burn a powder blue candle for Inspirations minutes before going to bed.
This will accomplish several things. For one, it will alert the divine that you are asking for added help. In addition, it will create an atmosphere of energetic support. When one is worried, that energy is not only expressed in the auric field, it can permeate the surrounding environment which can inadvertently be picked up again, even after a meditation. And finally, burning candles can help you sustain the benefits of your meditation and keeps you from unintentionally reigniting internal patterns of worry all over again.
Safety first when it comes to candles. Don't leave candles unattended. Sometimes it's good to burn them in a tray, sink or something that is nonflammable. If your work schedule does not allow you to light a candle for extended periods of time, do the candle exercise at a time when you are not so busy. Vacations, weekends, mornings or evenings are good times to work with candles.
It is great fun using candles and discovering their power in helping to transform situations in your life. You will find that adding candle work is a wonderful support system in your spiritual practice.
Holiday greetings of love to you,
Barbara Y. Martin