Change Your Aura,
Change Your Life
Course
Learn How To Meditate With Divine Light To Transform Your Life
Discover the most effective, comprehensive meditation technique available to enrich any aspect of your life.
Created by award-winning authors and spiritual teachers
Barbara Y. Martin and Dimitri Moraitis
Facilitated by the Spiritual Arts Faculty
Built on 50 years of clairvoyant research, learn how to access the source of your auric power – your own spiritual bank account of living light. By meditating with the Divine Light, you can make changes in your life faster, more effectively, and with greater chances of sustained success.
Benefits of meditating with Divine Light include:
Course Taught by Spiritual Arts Institute Faculty
You'll participate in a six-week live, interactive course with highly skilled and experienced Spiritual Arts Institute faculty taught in small, intimate groups for hands-on learning. 
In addition, the course includes:
Sign up early! Space is limited.
Change Your Aura, Change Your Life
$495 $295 (limited time offer)
mondays 
jan 8th – feb 12th 
4:00PM – 5:30PM (PST)
Online
WEDNESDAYS
jan 10th – feb 14TH
4:00PM – 5:30PM (PST)
ONLINE
SATURDAYS
jan 13th – feb 17TH
9:00am – 10:30AM (PST)
IN PERSON AND ONLINE
SATURDAYS
JAN 13TH – FEB 17TH
5:00AM – 6:30AM (JST)
Online
"It was not until I discovered meditation with Divine Light through the Spiritual Arts Institute that I began to get amazing results. These results include practical improvements in my everyday life such as stronger, more authentic relationships, feeling courageous in meeting challenges, and feeling abundance in all aspects of life."
"Spiritual Arts Institute has blessed my life in every way. If you yearn for truths, and you want to discover yourself more, this is the place that will help you to clearly understand both."
"I spent many years searching for a true path before I found SAI. Having completed the Seven Spiritual Arts and the Direct Divine Light Healing program and now working through the Kindom of Light program, I can say that nowhere else will you find truth this deep and complete."
"To understand that we are never alone in this Spiritual journey is of great comfort to me & I am eternally grateful for the serendipitous moment which placed me on this path."
"The day I took the Change Your Aura class, I knew this was the thing I had long been searching for. Everything just made sense. Something inside me clicked. I have not only gained a new sense of meaning, purpose, and understanding but a spiritual family as well."
"I am forever grateful that going to the Change Your Aura, Change Your Life class put me on a path of being connected to the Divine in ways I didn't know were possible."
"The classes at SAI are life changing. Barbara and Dimitri are genuine spiritual teachers who empower their students to discover their own path through the application of metaphysical tools and teachings, and there is a high level of integrity in the way the material is presented."
"Choosing to be a part of Spiritual Arts Institute has been a game changer on every level. I'm thankful for the deepening knowledge, awareness, growth, and practical tools."
"In gratitude to Barbara and Dimitri to the books and classes and their dedication to the mission of helping souls grow."
Based on international bestseller
Change Your Aura, Change Your Life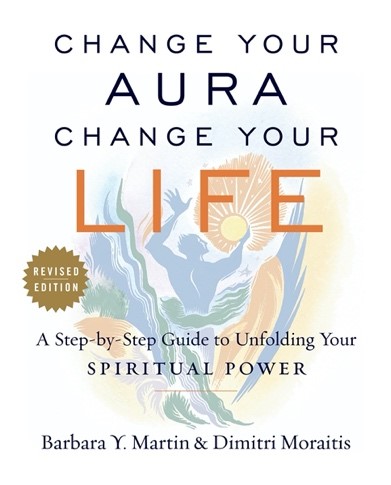 THE CLASSIC AND BESTSELLING GUIDE TO WORKING WITH YOUR BODY'S AURIC ENERGIES!
A miraculous spiritual force operates in the midst of us. Although invisible to physical sensing, it is vividly alive and active. It is part of us and we are a part of it. This force is known as the human energy field—the aura. 
— Barbara Y. Martin & Dimitri Moraitis, Change Your Aura, Change Your Life
Discover your source of unlimited spiritual energy. Renowned clairvoyant and spiritual teacher Barbara Y. Martin—known as the Mozart of Metaphysics—leads you through her technique of meditating with Divine Light to improve and strengthen the aura. For over fifty years, Barbara has taught thousands of people to meditate with spiritual energy with astonishing results. Winner of the Nautilus Book Award.
BARBARA AND DIMITRI lead the program training and Founder events. They follow the mystery school "living teaching/living teacher" tradition that gives students the energetic space to receive the Divine Light and commune with the Divine. Their books have been endorsed by medical luminaries, Dr. Norman Shealy and Dr. Richard Gerber, as well as New Science pioneers Amit Goswami and Noble prize nominee Ervin Laszlo.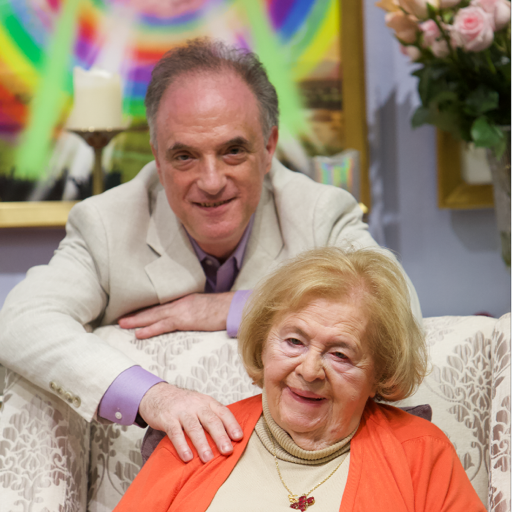 How does meditating with Divine Light work?
Everything you think, feel, and do radiates a spiritual energy that comes through in various colors and hues: this is your aura. By changing the quality of your aura, you change the quality of your life. That's one of the spiritual laws.
Say you need to build confidence. In the auric field, confidence shows up as a brilliant gold light. You can meditate with the power ray of confidence to build up that golden energy in your aura. Then you will find it easier to express that confidence in your life and that spiritual power becomes part of you. Your aura has changed and so have you!
What is covered in the six-week, online live training:
For full course syllabus click here
Change Your Aura, Change Your Life
is the gateway course to our groundbreaking 
The Seven Spiritual Arts Program
A cutting-edge, personal metaphysical training designed to help you accelerate your own spiritual growth.
As you grow, you begin to see the light of life all around you: in the face of a friend or family member; in a moment of adversity or in the ecstasy of inspiration; in the homeless person you greet on your way to work every day; in all your fortunes and misfortunes.

— Barbara Y. Martin & Dimitri Moraitis, Change Your Aura, Change Your Life
Yes, parts of our aura are constantly changing depending on how we are thinking and feeling. That is our saving grace. We are never stuck with an aura the way it is.
Everyone has the potential, but it requires a great deal of effort and discipline. The goal is to develop your soul's potential, and seeing auras can be a byproduct of that evolution.
The aura is your spiritual support system. To change a condition in your life, you must first change your aura.
Yes! You do not need to see the aura to work with it any more than you need to see your heart to know it is beating. By sensing the aura and understanding its characteristics, you can apply it in your life and see results.
Your aura improves with every good word, thought, act, and deed. You can also change your aura by working with spiritual energy.
Yes. Although no two auras are exactly alike, the basic structure and components of the aura are the same for everyone.
Yes. Even if one is not aware of it, every living soul has an auric field.
The aura is where you forge your spiritual mettle and where your spiritual unfolding germinates.
The beauty of meditating with Divine Light is you are focusing your mind on the Light and spiritual attribute you are calling on. This helps to center and focus the mind.
Meditation is your one-on-one time with the Divine. Make room for meditation in your life and watch how all your other activities fall into place.
There are a variety of meditation techniques to suit the needs and temperament of the individual. Our recommendation in starting a new meditation practice is to suspend any other meditation you may be doing and focus on the meditation you wish to explore giving it some time. Your application of the meditative practice will tell you if the practice is right for you.
There is a technique to calling on the Divine Light. Yet like any art or skill, the more you do it the better you get at it.
There is a cumulative effect of daily meditation that is essential for spiritual growth.
Start Your Spiritual Journey