Are major events and moments in your life happening by accident, or are they part of a divine design? Do you face struggles that feel insurmountable? Are you fulfilled in what you are doing, or do you feel there is something more you are meant to accomplish?
Metaphysics teaches that every soul has a purpose in life, the part each of us plays in the great divine plan. The vision of this plan is known as The Tapestry of Life. You are shown your Tapestry of Life before you incarnate to guide and inspire you. The power to accomplish this plan is placed in your aura and consciousness. It then becomes your mission to weave this tapestry in physical life by seeking, finding and fulfilling all that you came to this earth to do.
In this extraordinary workshop, Martin and Moraitis explore how you can better align with elements of your tapestry to succeed in the full breadth of your life's pursuits. Learn meditations for guidance, direction, creativity and inspiration to keep you in spiritual rhythm as opportunities, as well as inevitable tests and challenges, present themselves.
Discover:
How your tapestry shows key people you are meant to interact with, such as family, friends and colleagues; as well as the career you are meant to have, karmic conditions to work through and experiences you are meant to have.
Twelve stages of your life experiences and keys to better evaluate where you are in the fulfillment of your purpose.
What happens if you don't fulfill what's on your tapestry or others you are meant to work with don't play their part.
Keys to balancing the various facets of life dynamics, such as purpose, potential, and free will.
Meditations with Divine Light to strengthen the connection to your tapestry to help in all your pursuits.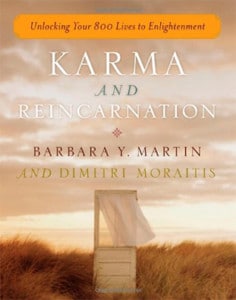 Demonstration of clairvoyant aura readings is part of this event.


Join online or in-person!
To learn more about the tapestry of life, be sure to read the best-selling book "Karma and Reincarnation" written by Barbara Y. Martin and Dimitri Moraitis
BARBARA Y. MARTIN is among the foremost clairvoyants and metaphysical teachers in the world. Affectionately known as the "Mozart of Metaphysics," she was one of the first lecturers on the aura and the human energy field. DIMITRI MORAITIS is cofounder and Executive Director of the renowned Spiritual Arts Institute. He is an eloquent and accomplished teacher and spiritual healer. Martin and Moraitis are the authors of the award-winning books Karma and Reincarnation, The Healing Power of Your Aura, Communing with the Divine, and the updated edition of the international bestseller Change Your Aura, Change Your Life.
Cost: $50 in advance/$60 day of

Saturday, March 10th 1:00pm – 3:00pm PST Online and In-Person