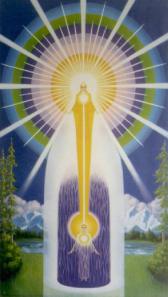 Recently in meditation this message came through very strongly from The Higher:
Your only obligation is to God.
It is too easy to somehow underestimate the importance of God. It is very common that we get so busy with what we perceive to be our responsibilities that we forget what is most essential – our relationship with the Beloved.
Know this to be true: by putting God first, the rest of our life will fall into place.
~Barbara Y. Martin
copyright 2011