By Adriana Paredes- SAI Staff writer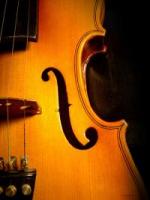 "In a time when the funds for arts in schools continue to be trimmed down, El Sistema is shining example of the essential place the arts have in a productive, well-balanced Violin education. El Sistema is a musical program that teaches classical music to impoverished children in Venezuela. Dr. Jose Abreu the founder of the program believes that, "if you place a musical instrument in a child's hand he or she will not pick up a gun."
El Sistema has been remarkably successful. It gives the opportunity for students to create, to re-imagine and establish new paths of life away from the present dead ends that many in poverty live in. Gustavo Dudamel is a perfect example of this. He was a former student of El Sistema and is today is a world class conductor for the LA Philharmonic. Dudamel was recently named by Musical America as the 2013 Musician of the Year. He has been hailed for his "charisma, tireless advocacy for music education, and expressive music-making."
In addition, El Sistema creates bridges of understanding between cultures. Who would ever think that salsa could be added to Beethoven and played while dancing? The Sistema musicians study and play classical European music yet adding their "latino" twist bringing cultures closer together.
There is a spiritual side to creative expression as well. Clairvoyant and aura specialist Barbara Y Martin emphasizes, "In the human aura, there is an entire area dedicated to creative expression. It's called the magnetic division. When someone is expressing their creative nature, whether artistic or inventive, this energy comes through in an exciting electric blue energy."
Dimitri Moraitis, executive director of Spiritual Arts Institute, adds, "Some people think that the arts are only for the artists, yet we are all inherently creative as part of our spiritual makeup. It's important to express your creative desires, regardless of what or how developed they are, as part of a well-round spiritual education."
El Sistema reminds us that if you want to bring balance and joy to your life, pick up an instrument, a pair of dancing shoes or a paintbrush. Nurture and express your talents. Your magnetic division will glow.
More information on El Sistema:
Huffington Post article on El Sistema