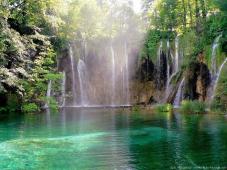 Your Emotional Nature is instrumental in your development as a spiritual being. Your Emotional states of consciousness are going to make or break you, no matter how much knowledge you've acquired – If you cannot conquer challenging emotional states, you're going nowhere spiritually.
In the natural rhythm of life there are ups and downs. It is when you are down that your faith and your spirit are given the opportunities to fully embody all you are and put into practice the tools you have learned. If during these time of difficulty you act out emotionally, you're going to stay right in that lower state of consciousness. When you are emotionally toxic you poison not only others, but yourself as well. In this state you cannot get into that Higher consciousness because too much of your spiritual reserves are going to rebuild your emotions and bring them back into balance.
How can you remain centered durning times of pain, worry, sadness, stress, etc,? Working with the emerald green ray of balance and harmony is wonderful to help steady the emotional nature. Meditate on the brilliant emerald green ray, seeing it activating your chakras. Engage with nature to soak in the soothing, living green of life. You can also wear green to help inspire you to remain balanced and calm.