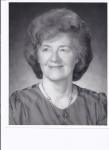 Barbara would be the first to say that she reluctantly entered the world of teaching. Despite years of training, preparation, and great talent, when it came to begin her career as a metaphysical teacher, she hesitated. At that time, there were few professional metaphysicians and making a career of it seemed risky. She wasn't sure people would be interested in what she had to offer! She still had desires to pursue her creative writing. But what made her the most cautious was the responsibility. There's a karmic responsibility if you mislead a soul in any way. It is also a lot of work. Metaphysical teaching is a consuming endeavor. A teacher must follow the lead of divine inspiration. You work in and out of class. While she loved to help people, she knew that in being a formal teacher, her life would not be her own in many ways. Yet she also knew this was her destiny.
Her first professional opportunity came when she was working at an insurance company. She was friends with a co-worker and one day while they were having lunch together Barbara blurted out, "You're going to get married again." The woman was divorced with children. She thought the whole thing was crazy and said, "Barbara, who's going to marry me with six children?"
Soon after that, the woman went to a class reunion and met up with an old boyfriend who was also divorced. Before you knew it, they were married! This woman was so impressed she kept telling people, "I don't know what Barbara knows but she knows something!" She organized a lecture for Barbara. Afterwards, people came up asking to join her classes. Barbara said, "What classes? I don't have any classes!" Well, from that day Barbara started teaching regularly.
As her classes grew, it became difficult to work and teach at the same time. She was getting the inspiration from the Higher to leave her job and teach full time. But she was reluctant to leave her day job. As she relates, every time she would drive to a class her car would work fine, but when she would drive to work, her car would have problems. She would take the car to the mechanic but nothing was wrong. One day, she was driving to work and the car broke down on the freeway. Then she got the message. That day, she agreed to make teaching her full time career.
As a teacher, a new world opened up for her. With every class, the divine would come close to her, putting together the many years of training and bringing fresh inspiration. Many times she would have a prepared lecture, but the Higher would come in and give an inspirational talk, or offer specific meditations and prayers. These years of teaching would lay the foundation for the book and manuals she would later write.
She became particularly known for her work with the aura, although she saw herself more as a teacher. She discovered that there were many people interested what she had to offer and she built her classes quickly. There were not many people doing her kind of work and all she had to do was mentioned the aura and metaphysics and people came. She did some powerful healing work as well which made her even more well-known.
During those pioneering days, it was a magical time. Yet there were many challenges. It was financially difficult. Students, friends and family did not always rise to the occasion which put more demands on Barbara. Yet through it all, Barbara laid the foundation for a whole new era of metaphysics, an era that is still unfolding. Our debt to her as spiritual students is incalculable.
In celebrating your birthday, thank you Barbara for all you have done for us. Thank you for the years of dedication and diligence in bringing these teaching through. Thank you to help us to truly reach our spiritual potential. And thank you Holy Ones for sending such a marvelous teacher.