"The spiritual energies of God come through in a kaleidoscope of colors and hues that are vibrant and alive. Our being is filled with color. Each color and shade of the aura has a unique meaning." ~Barbara Y. Martin
Meditating with different spiritual energy colors help you to align with the divine attributes associated with that color. By drawing the energy into your being, you increase your awareness/consciousness of God, thus improving all areas of your life.
In the following weeks, we will work with various colors of the aura by meditating with spiritual energies and applying their attributes throughout our day.
We welcome your feedback, comments, inquiries, and insights. Many blessings!
Week One: Deep Rose-Pink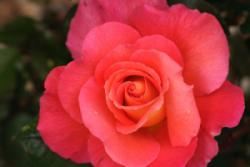 "Rose-pink is the color of divine love. This pink is absolutely devoid of jealousy, selfishness, or any other human negative emotion. It is expressed with great beauty, and lives in the planes of creation. Pink is a universal color expressing joy, comfort, compassion, human love, upliftment and abundance." ~ from the award winning book, Change Your Aura, Change Your Life.
For five minutes every day this week, meditate with the deep rose-pink ray. The deep rose-pink ray is a powerful magnetic emanation of the Divine, blessing all with unconditional, ever present love. Feel its uplifting nature permeate every aspect of your consciousness.
If you are experiencing difficulty loving yourself, your neighbor, your family, or a particular situation, see the rose-pink ray healing those relationships and situations in this loving light, illuminating all involved. See it showering you in all aspects of your being, uplifting you in divine love.
Then as you go about your day, do you best to express this divine blessing of love. Show others love, compassion and kindness and the energy you received will become a beautiful part of your aura, bringing you one step closer to your divine goal.
God bless you!