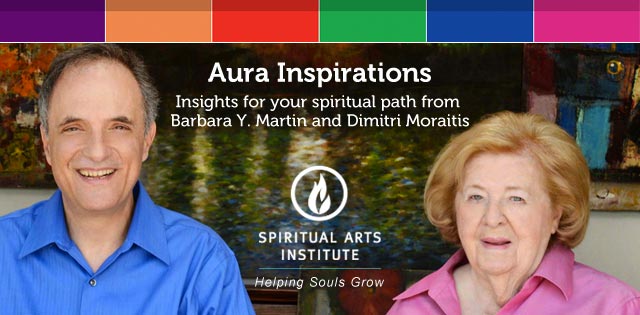 ---
Latest News
---
Following this issue's theme on spiritual experiences, we are offering an inspiring online interactive webinar Awakening the Divine Experience, Tuesday, November 17. Due to a technical glitch we have rescheduled the online workshop, Angels and Your Spiritual Evolution to Sunday, November 22. Two exciting workshops to help better express the divine you!
We are delighted to announce the commencement of the Spiritual Arts Institute student portal. We are using the Canvas by Instructure learning management system used at institutions such as Harvard and Stanford. This portal will facilitate all the training programs at SAI, deepening the educational experience. Our hats off to the SAI staff for pulling this all together, especially Adriana Paredes who coordinated all the SAI material that will be in the new portal.
Publication of the revised edition of the award-winning book Change Your Aura, Change Your Life is scheduled for April 26, 2016. We will celebrate the fascinating world of the aura and our beloved co-founder and teacher Barbara Y. Martin's many years of pioneering work in metaphysics. She was instrumental in bringing to public attention the greater awareness of the human energy field.
Our Fall training classes are going well with courses covering topics such as karma and reincarnation, the aura and meditation, spiritual anthropology and healing techniques for the spiritual dimensions of the body. Some exciting news is coming up regarding the new Spiritual Arts Institute Center which we will share in our next newsletter coming soon.
Fine art reprints of Angel illustrations from Communing with the Divine are available exclusively through our Spiritual Arts Institute online store. These make wonderful gifts!
---
Winter 2016 Change Your Aura Foundation Courses
---
Our ground-breaking course on the aura and spiritual energy begins January 13, 2016. This is the gateway to all the training at the institute.
---
What Are The Seven Spiritual Arts?
---
These seven mystical arts offer essential Divine Light principles that build an enduring foundation of spiritual skills which you can apply in any aspect of life. The next courses in this series include The Spiritual Keys of Living and The Healing Power of Your Aura.
---
---
For insightful articles on the aura, spirituality and metaphysics, visit our blog! Every week we post new, meaningful information relevant to your life. Subscribe for email updates to have posts delivered to your email!